Day 37 - Crawfordsville to Indianapolis IN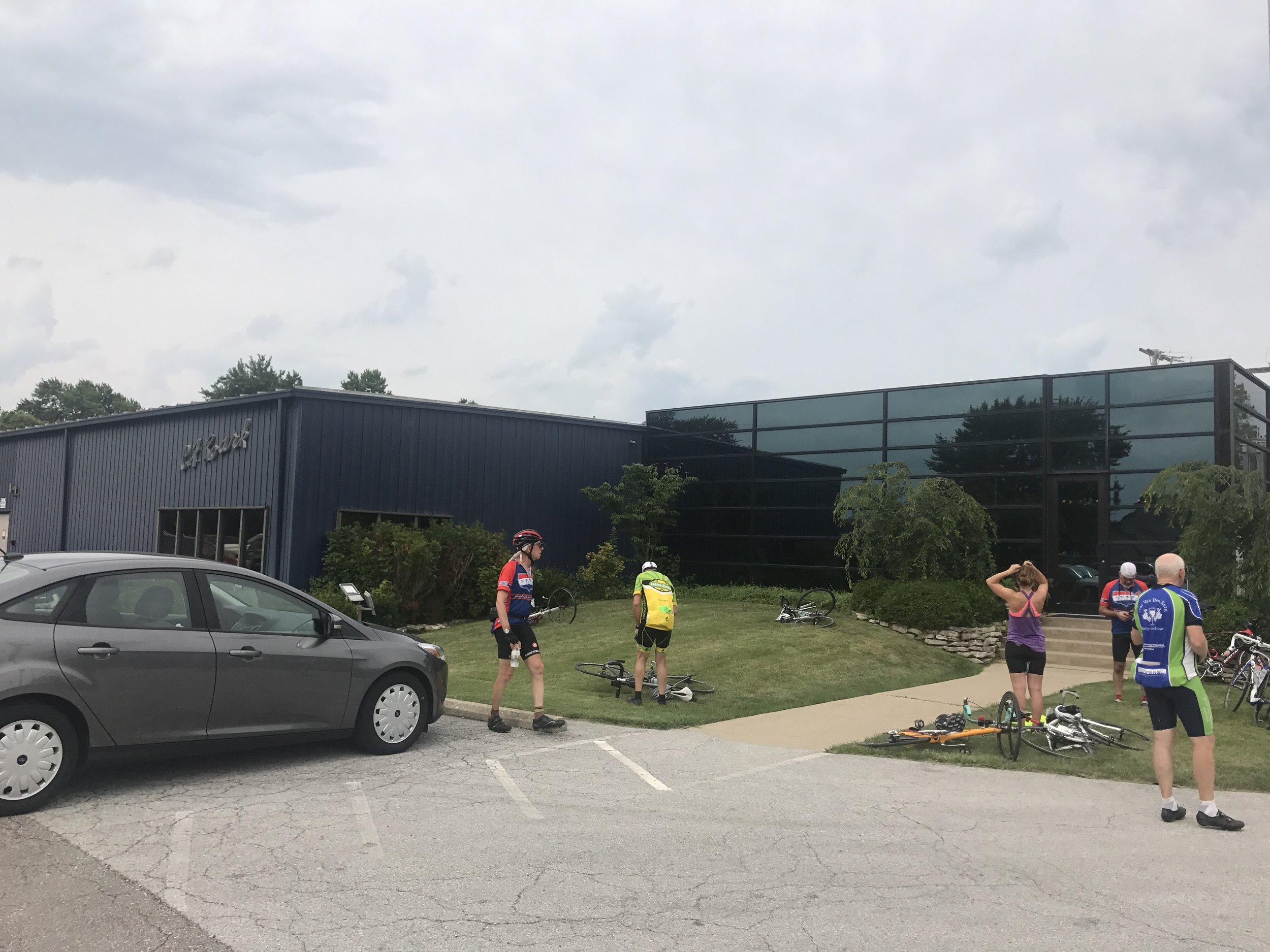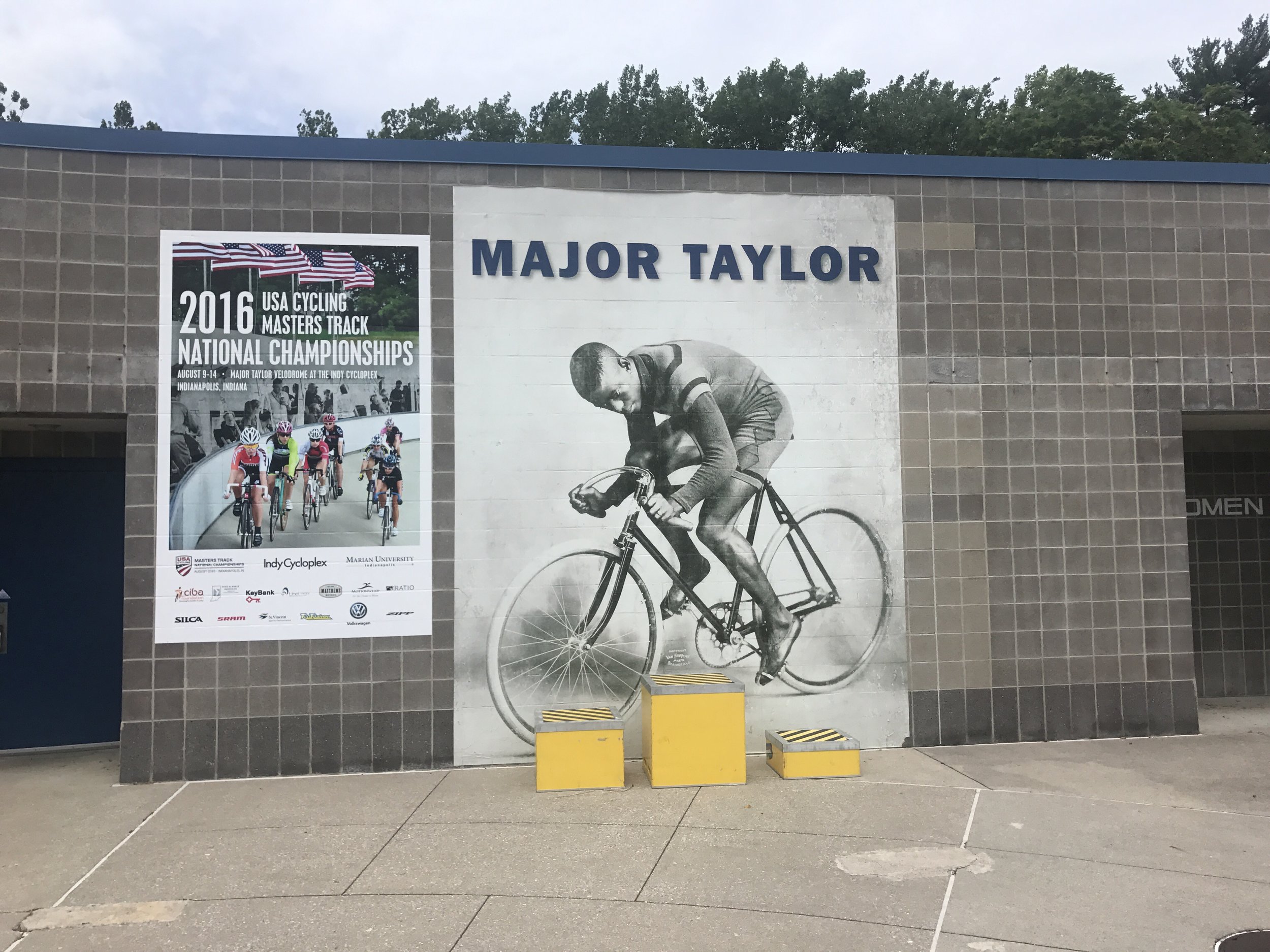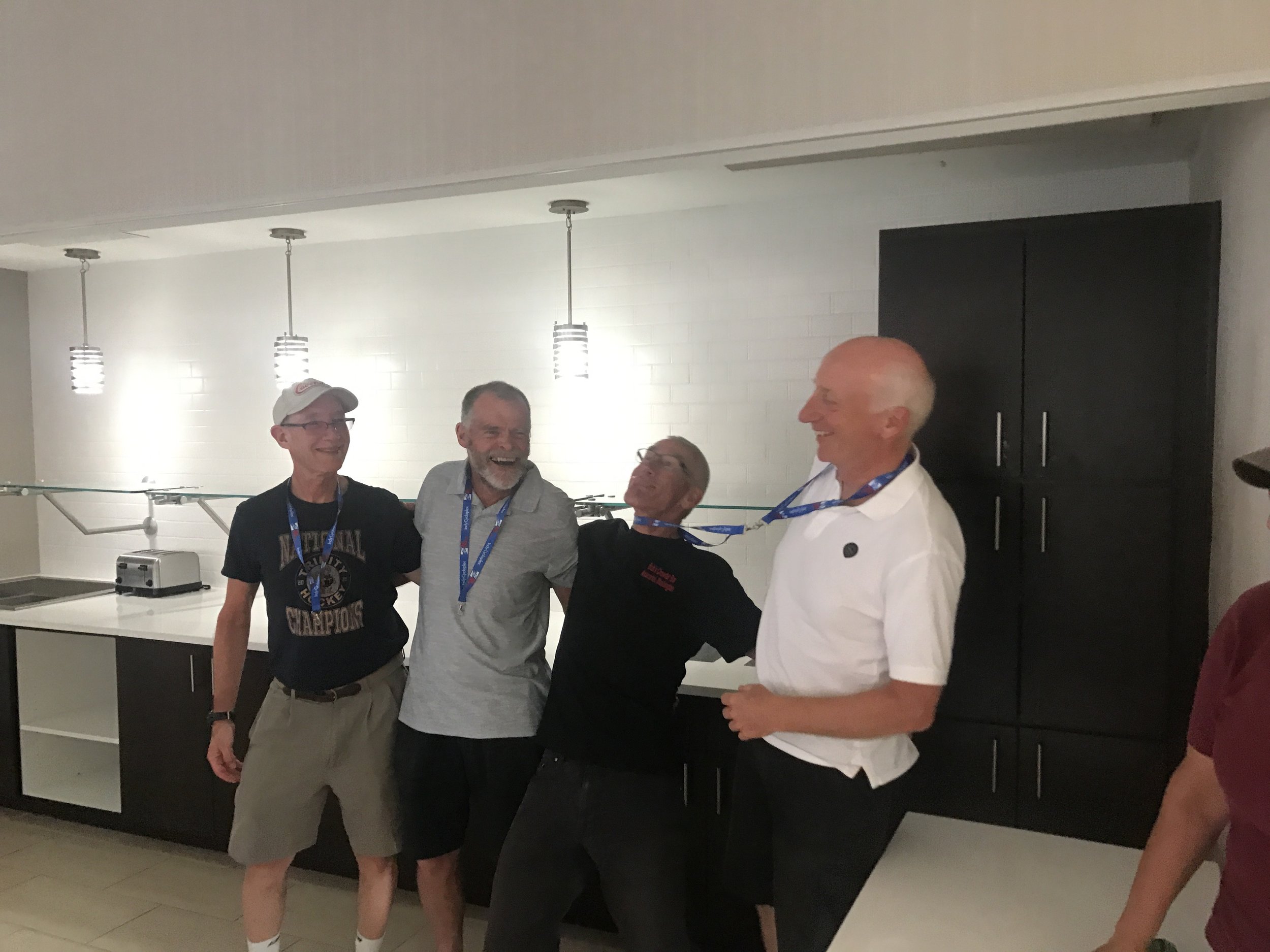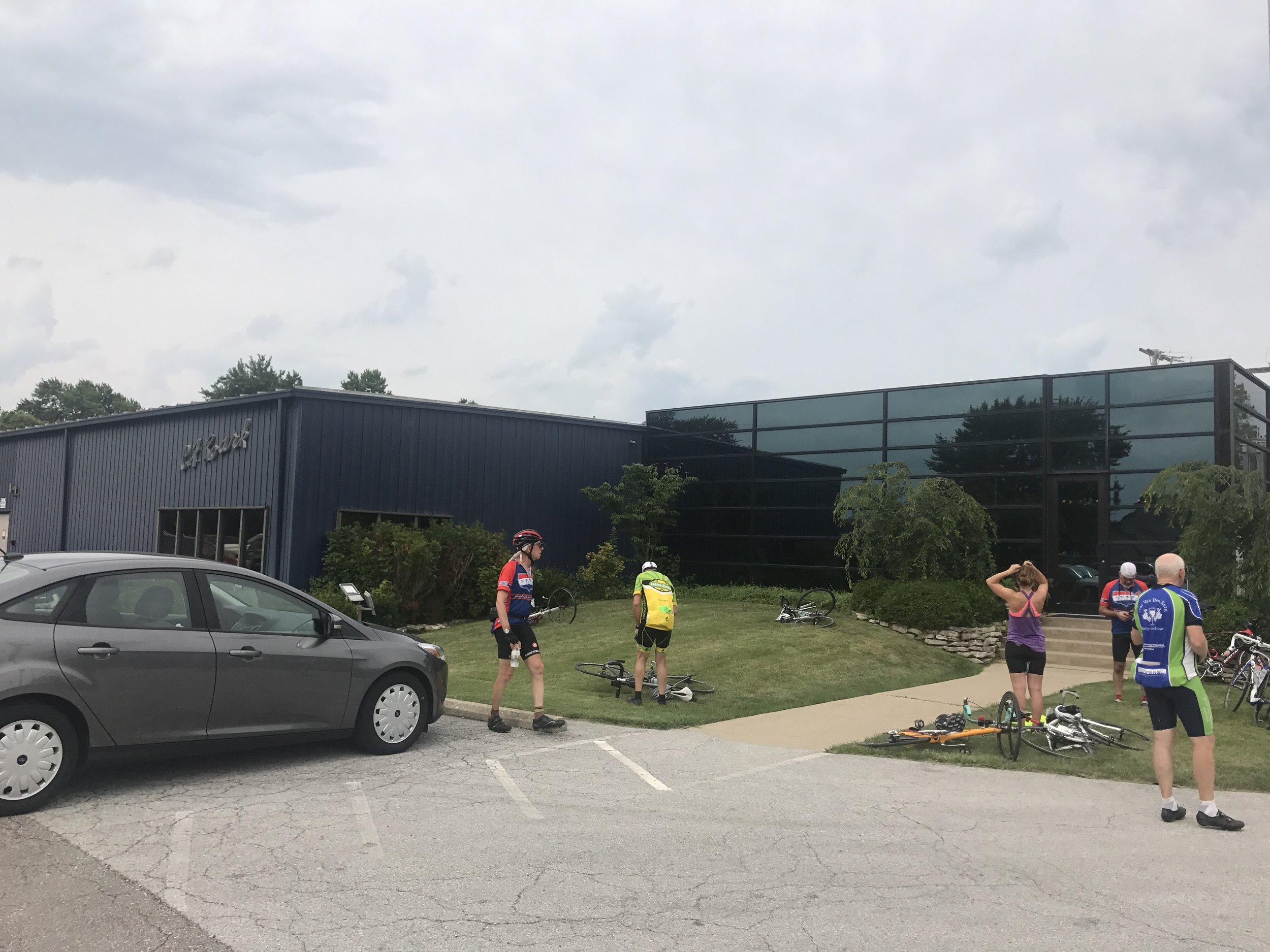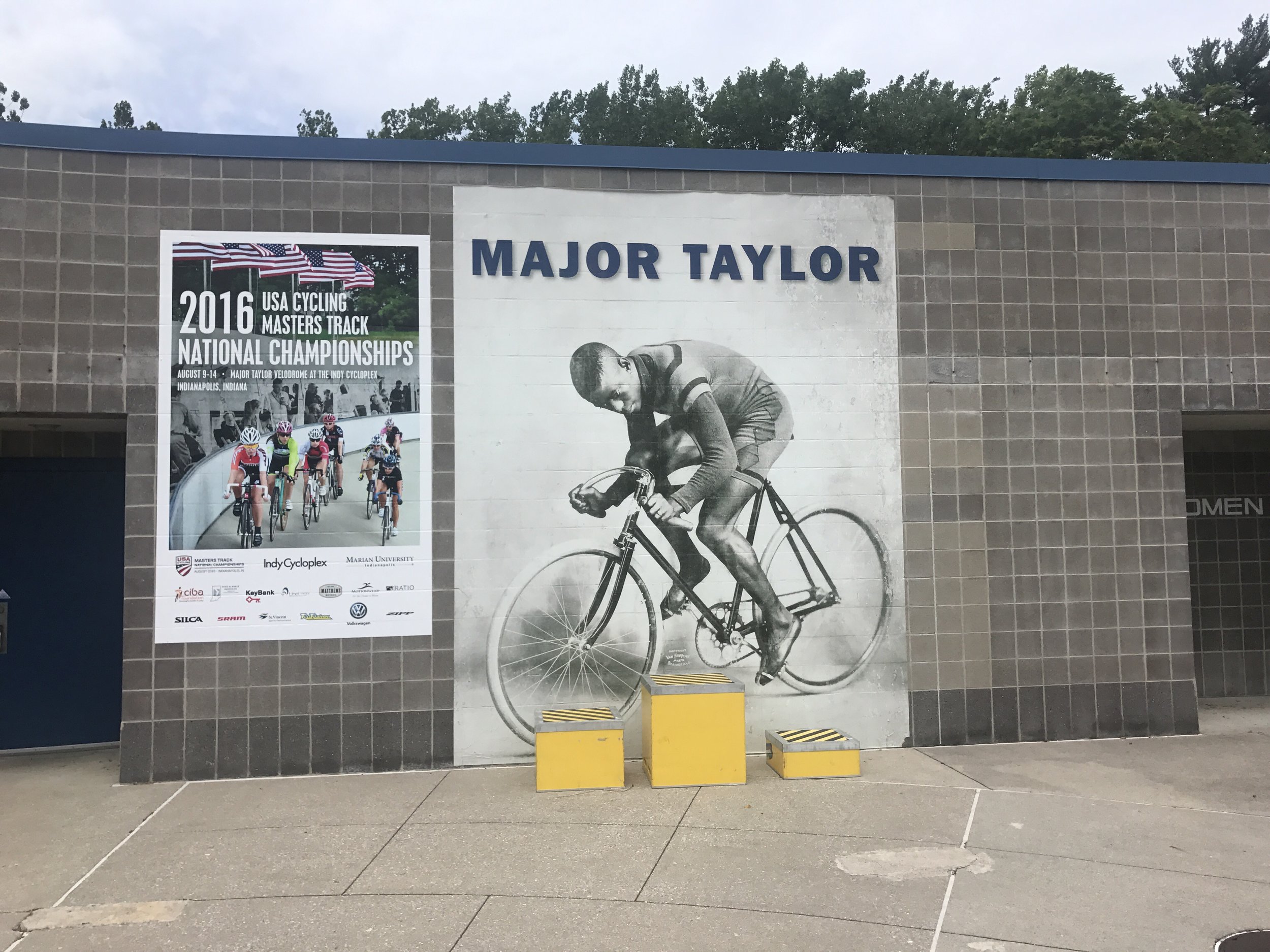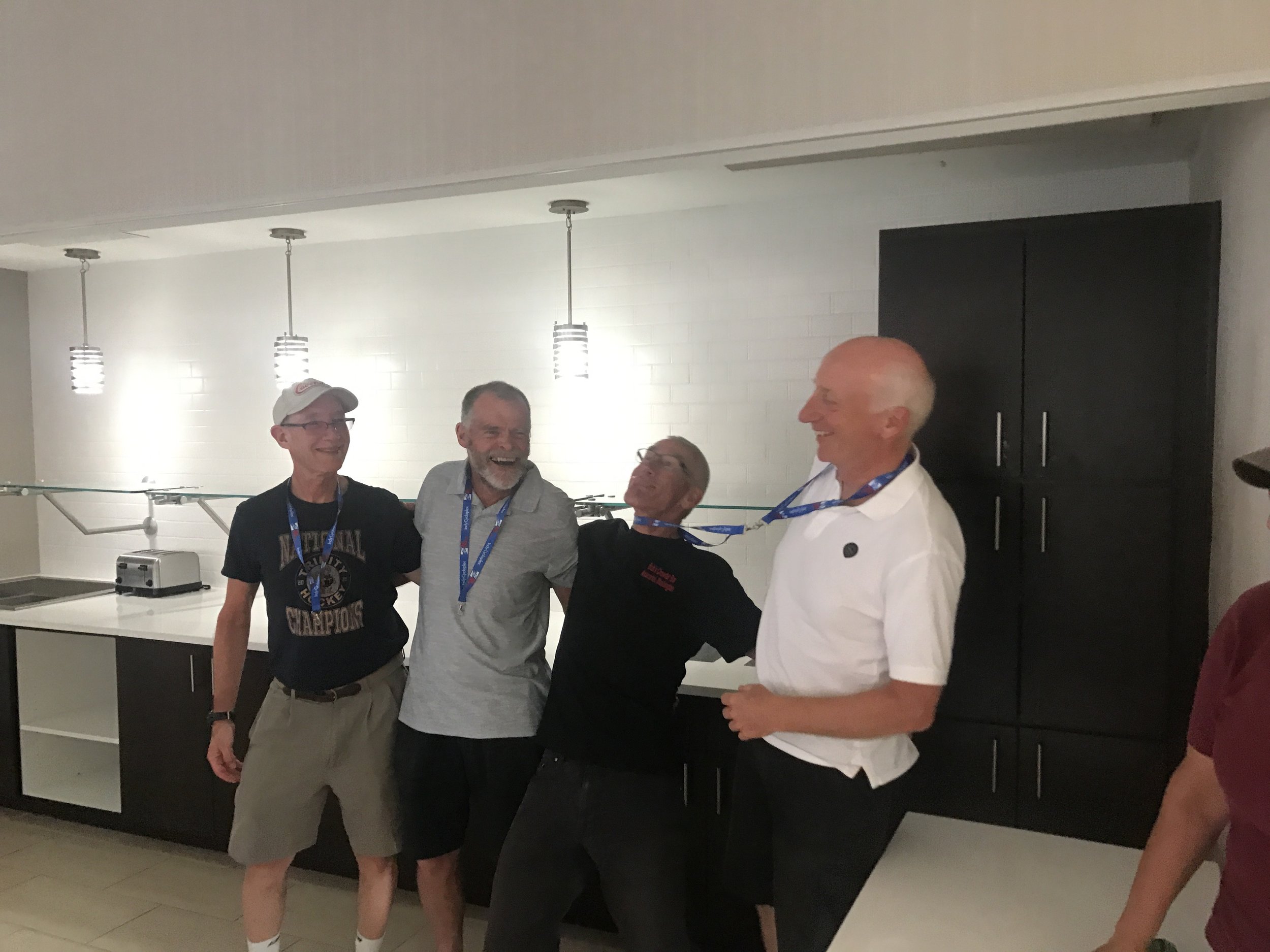 I Wanna Go Fast!
Mileage: 63 miles
Total climb: 700 feet
Weather: Rain threatening, some light showers.
Today we would be heading into our rest day, but there was plenty to do. First we had to navigate our way through downtown Crawfordsville and out of the city, back into the farmland we were getting so used to. The familiar corn and soy bean crops greeted us once again. This part of the ride was largely more of the same: small towns, farms, and barns. Only when we came into Pittsboro did our ride start to get more interesting.
Waiting for us at the church in Pittsboro was Pastor Dave, who graciously lets us use the parking lot of his church each year as a SAG stop. Dave would be riding with us the rest of our day into Indianapolis. An ABB alumni, Dan, was also there with dilly pops from Dairy Queen for our riders to snack on. Dan brought his dog along as well, and he seemed delighted to meet us. After our dilly pops and a short rest, we had a scheduled tour to make at the CF Roark factory.
The Roark factory was an interesting stop. Roark is primarily an aerospace component fabricator, but they also build other things, like neodymium superconducting magnets for the particle accelerator being constructed at The University of Michigan, and titanium bicycles! Admittedly, most of our riders on the tour were only really interested in seeing the bicycles, but Ernie and Ton seemed interested in all the hardware and software they were using in the facility. We were given a pretty comprehensive tour by the owner of the company, Ted, who showed us enormous presses, five-axis milling machines, engineering offices, and even a room where they acid-treat metal to prevent corrosion.
After our tour, we headed towards Indianapolis once again. We passed a megachurch on our way to Eagle Creek Park, where we would take a bike path almost into the city. A few miles after exiting the bike path, and a few turns later, we got on a road that would soon take us past the Indianapolis Motor Speedway. Some of our riders entered the track and saw what they described as 'a bunch of regular Dodges driving around'. After some poking around, I found out it was a press day for the Dodge Durango SRT, Dodge Challenger Hellcat, and Dodge Challenger Demon.
Once we left the huge footprint of the IMS, we made our way over to Marian University and the Major Taylor Velodrome. Some of our faster riders, Pastor Dave, and Ian, one of our Australians, decided they would ride around the Velodrome while the rest of us watched and cheered them on. Major Taylor was famous for being the first African-American world champion of ANY sport. He was for a time the fastest man alive. He is definitely a great example of cycling history and you should check out his story whenever you get the chance.
When our track team was done, we headed past the skate park and bmx trails and back onto Indianapolis city streets to get on the White River bike trail (where we got rained on a little), which in turn took us by the National Institute for Fitness and Sport. From there, we could see Lucas Oil stadium, and the canals with walkways that lined the bike trail we were riding on. The trail left us right in downtown Indy, next to the convention center and a few blocks away from Circle Center, which was visible once we reached North West street. A few blocks down North West, which is a very busy street, and we were in front of our hotel. We made it another day, and after so many different things to do today, it was well worth tomorrow's rest day. See you in two days on the way to Richmond!