Day 25 - Dodge City to Great Bend KS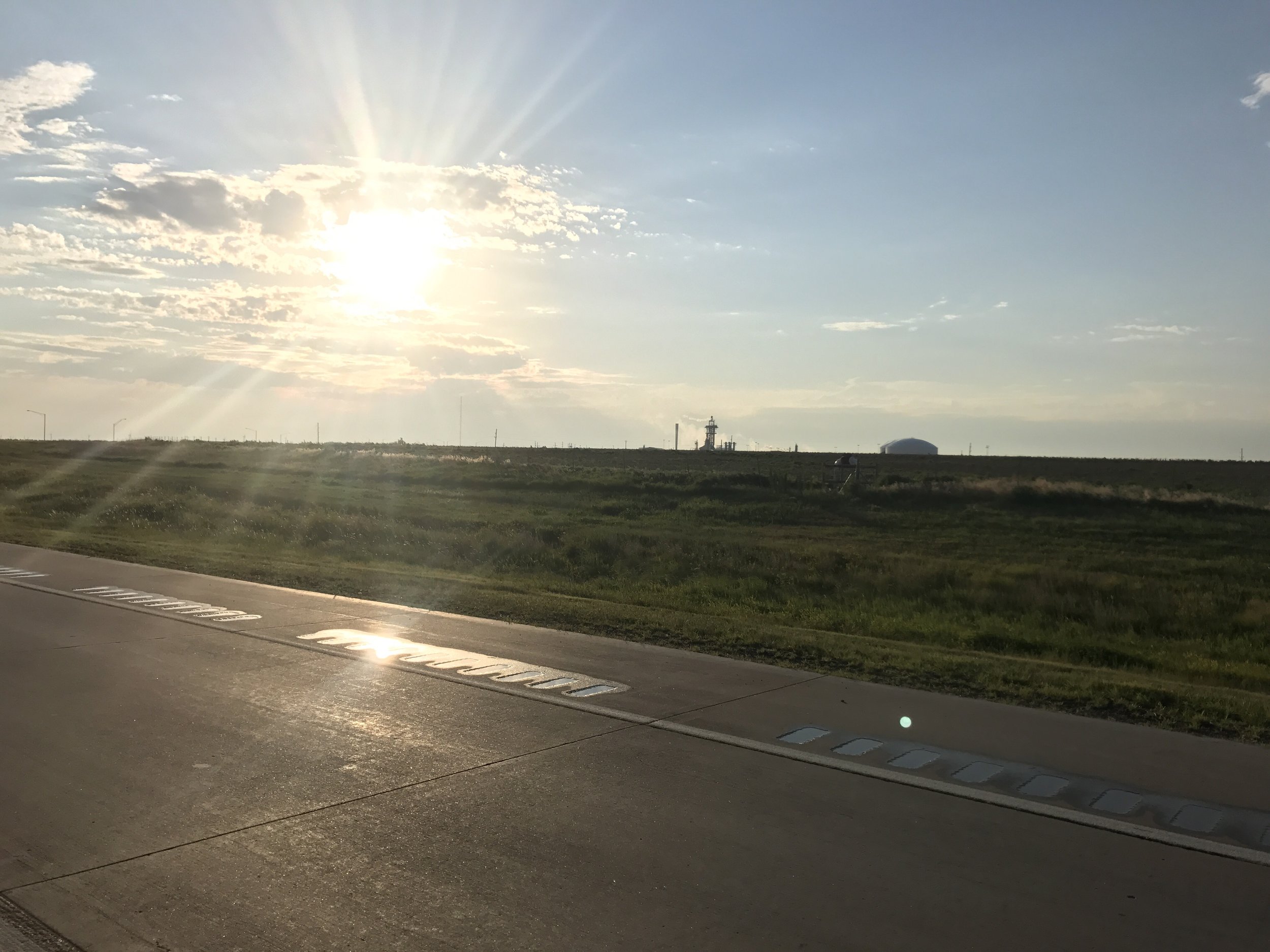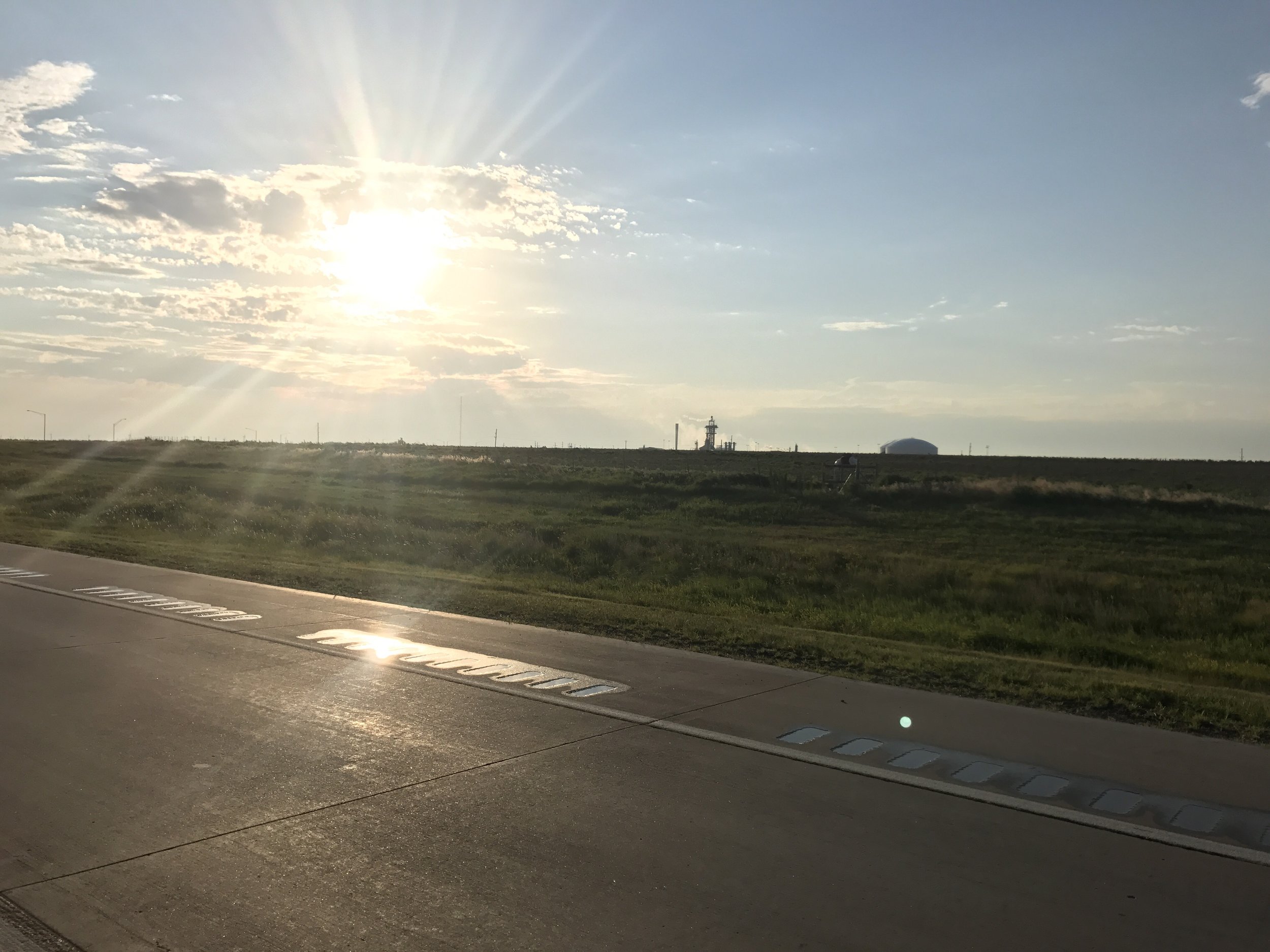 Getting Out Of Dodge
Mileage: 85 miles
Total Climb: 280 feet
Weather: Warm with a headwind to start the day, and a tailwind to end it.
Our stay in Dodge City was accompanied by an overnight thunderstorm which woke a few people up due to some lightning strikes in close proximity to the hotel we were staying at. Even considering that, we were up bright and early to get on the road out of town and on our way to Great Bend. When we got outside it was pretty windy, but we seemed to have avoided any rain. As we made our way past the city limits, our exit was once again haunted by the silhouette of the eternal cowboys that stood watch over the edge of town.
One of the first really remarkable things we saw today was the absolutely huge wind farms in Spearville. In 2006, Ford County installed 67 wind turbines over 5000 acres of land producing 100.5 megawatts. Today there are easily over 200 turbines there, and exact numbers are difficult to come by, but it is a sight to behold. Unfortunately for our cyclists, a wind farm means one obvious thing: wind… and there was a lot of it. They faced down constant 10-15 mph winds for the first half of the day, but their luck would soon change.
We had our SAG stop at Halfway USA in Kinsley, Kansas. There is a Sod house and museum, flanked by a small church and a playground, as well as a small shaded area for us to sit down and reflect upon the ride so far. It would be pretty easy to miss, were it not for the huge black locomotive out front and the sign that denoted the halfway point between New York City and San Francisco, but all our riders seemed to find it pretty easily. The hard part, however, is figuring out which way you're going when you leave, as its right after a turn and there are a few different exits.
After the first SAG, our riders would reach a road that was currently under construction, and upon reaching the end of that construction they would be treated to glass smooth roads, but that wasn't all. The strong winds swung around to their back and pushed them straight past the township of Garfield and into Larned and our second SAG stop at Schnack Park. The push they had was a good break, especially seeing as how some riders had to wait for up to 20 minutes to get through the construction.
Following a short break at our SAG, they headed toward Pawnee Rock, which used to be used as a navigation point for the pioneers on their journey west in covered wagons. Once past Pawnee Rock, they had a pleasant, quick ride into Great Bend, which was also fairly cool compared to how it usually is when our ride reaches town. Once we had a short break to shower and put away our luggage and bicycles, we had dinner at Great Bend Coffee, who were kind enough to open just for us. The food there was delicious and their location was interestingly below a church in the center of town. Today was slow to start, but the pace quickened up around mid day, tomorrow we push on to McPherson!