Day 45 - Rochester to Syracuse NY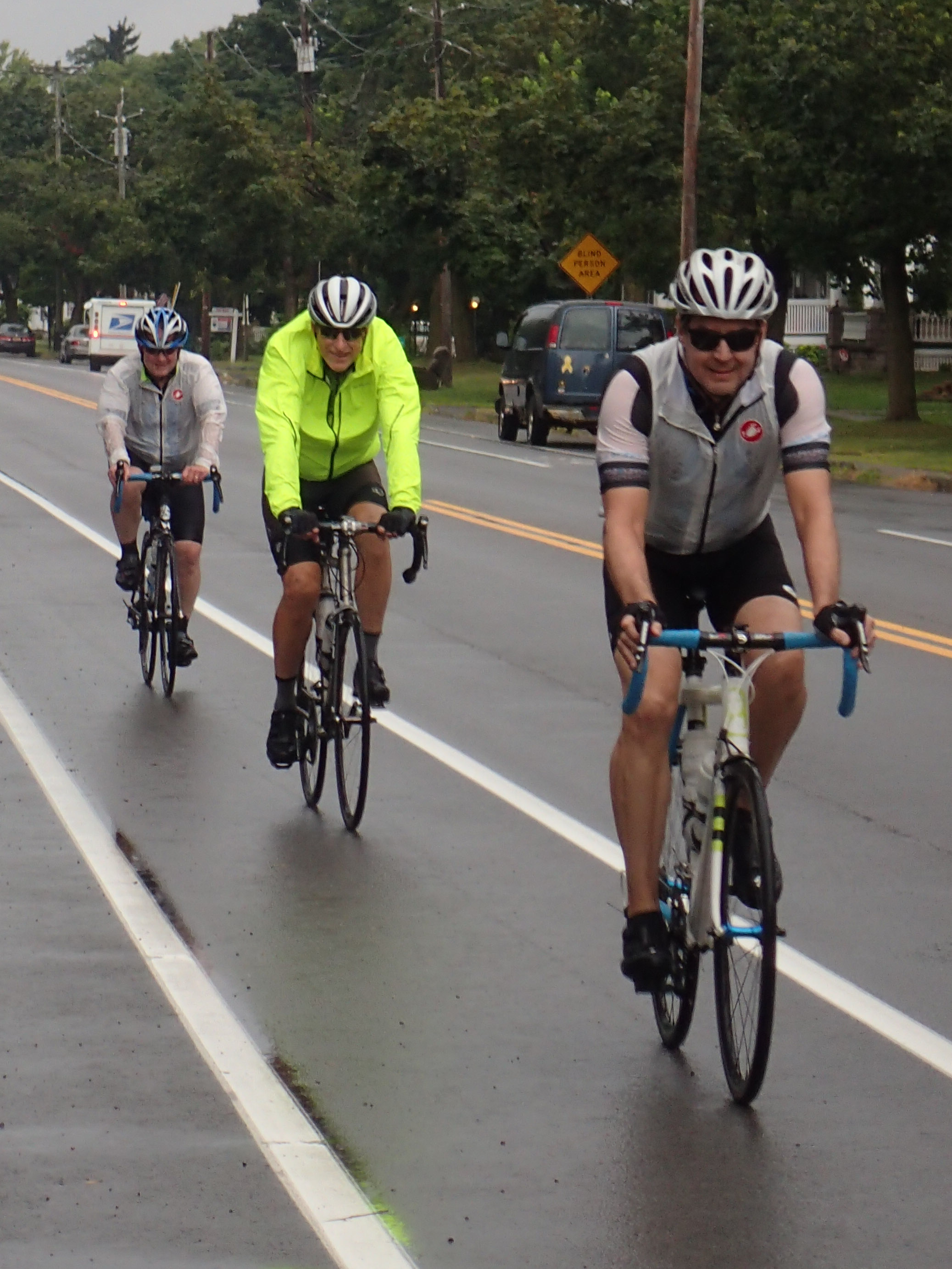 Crew's Log…
Mileage: 88 miles
Climbing: 2400'
Weather: Upper 60s to start. Low 70s to end. Rain in the morning. Rain in the late(r) afternoon.
Highlights of the day:
Today was wet. It was our first really wet day. It was raining when we started and it continued almost to the first SAG. Translating to times, it was raining when we all got up around 5:30 and continued until about 9:30ish. We thought we'd have more but we had a long break until about 2:30. We didn't have any big storm blow up or any lightning that I know about. It was just plain wet.
We started today's ride along the Erie Canal on the Canalway Trail, a bike path that runs along the canal banks. It's paved for the first 5 miles and then turns to hard packed dirt. Based on the forecast I read on 3 different resources, we opted out of the very wet hard packed dirt. Steady rain and dirt often makes mud. It's fine to get a bike dirty but riding 19 miles through mud, on a route with limited access for our mechanics to keep everyone rolling, was deemed as a less than optimal idea. In the town of Pittsford, everyone left the trail for Rte 31. The first stretch was a little busier than we would have liked but after 40 riding days on all kinds of roads, the riders did just fine and expressed some bit of happiness at not having to do the mud slog.
Route 31 is also part of New York State Bicycle Route 5. This isn't a separate bike trail, these roads are designate and sign posted by the Department of Transportation as particularly bike friendly with wide shoulders and (generally) good pavement. There are several in this state. This one runs from Niagara Falls to the Massachusetts border. It was another great stretch of road, taking us through small towns and rolling farmland.
Riding day after day requires a fair amount of fuel. Riders eat. Riders eat a lot. Riders eat frequently. They are like hobbits. Breakfast. 2nd breakfast. Elevenses. Luncheon. Afternoon tea. Etc... At this point in the ride, we start talking about tapering back. Fuel up as needed but start thinking about what you're eating. So to be totally unfair, we continue to point out all the local ice cream and fast food eateries. Today was a good one. Heid's of Liverpool is one of the oldest drive-ins. There is no car-side service but they have great hot dogs, kielbasa, and all the other deep fried goodies one would expect. Heid's is very conveniently located on route, just a few miles from the hotel. I hear tell that at least 12 riders stopped at Heid's and, as a result, got to ride in more rain. They still didn't regret their choice. Close to the hotel, we also pointed out Antonio's Ice Cream and Dunkin Donuts. Maybe we can start tapering tomorrow?