Day 24 - Wall to Murdo SD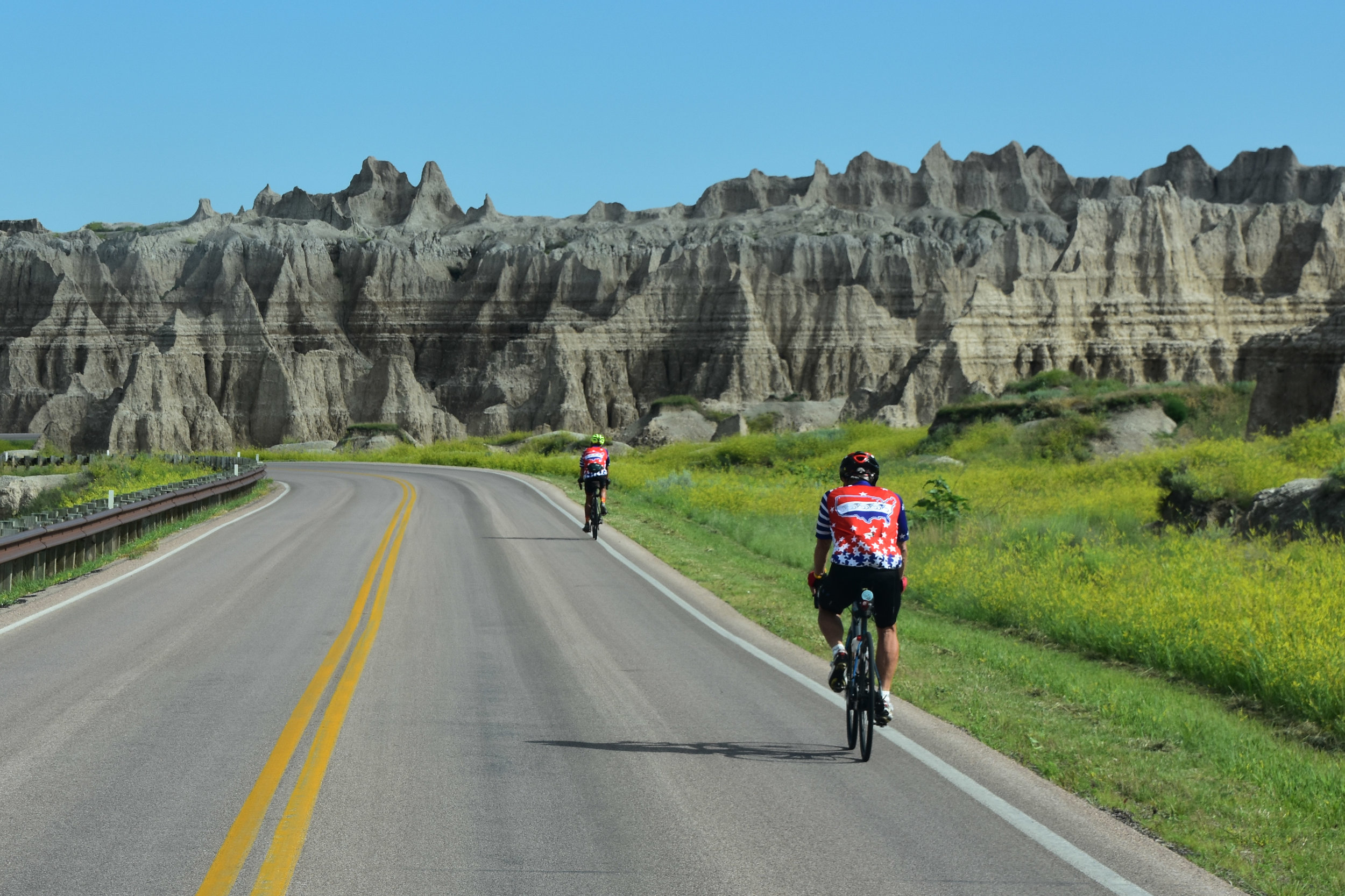 Crew's Log…
Mileage: 99 miles
Climbing: 3600'
Weather: Low 70s to start. Mid 80s to end. Winds out of the south to start, out of the SW to end.
Highlights of the day:
We had an epic storm front blow through Wall over night. Strong winds, heavy rain, sheet lightning and grape-sized hail. It woke most of us up around 1:00am. Fortunately, it moved east and well out of our path. Ominous clouds lingered in the early morning but we stayed dry all day long.
Today's route is one of the most unique and stunning on the entire tour. I'll explain the Badlands in the next paragraph but for now, suffice it to say that it brought may colorful superlatives to mind and out of the mouths of many of the riders. It is awesome in the true sense of the word. I hope the pictures do it justice. Now for the explanation…
Badlands National Park is a 244,000-acre area comprised of softer rocks & clays that have been eroded by wind and water. The remaining hills, buttes, mesas, rocky spires, canyons and other geological formations are striped with sedimentary layers. These layers contain one of the world's (yes world's) richest fossil beds of rhino, horse, and sabre-toothed cat that once populated the area. Now you find big horn sheep, pronghorn, mule deer, bison and prairie dog roaming (or digging holes) in the extensive mixed-grass prairie. I'm sure there are other fossilized or currently roaming creatures but these are what I found specified on the Badlands National Park website & I think you get the general picture.
What all this provided was an amazing start to a long day in the saddle. Riders stopped at just about every pull off along the road through the park. Lots of pictures were taken. There were even smiles on some pretty steep climbs, it was definitely the scenery. After the first SAG, we worked our way out of the park and onto Hwy 16, a frontage road to I-90. The terrain was mostly rolling on the 2-lane road with very little traffic. South Dakota rollers means getting to the top of one hill and seeing many more in the distance. I hope the riders liked these because there will be lots more over the next couple of days.
We celebrated our halfway point at mile 77. As with all other halfway marks on AbB tours, this was clearly marked and scientifically measured for accuracy. Or perhaps it just happens to be a wide spot in the road where a van & riders can safely stop to take pictures on the day when we cross the halfway mileage mark. 🤔 Suffice it to say that many pictures were taken with some hugs and then we were off again.
Somewhere near our hotel we lost an hour. Just like that. Poof! We joked about feeling robbed. On this long day, it certainly felt like it. Riders came in later than usual. But we adjusted and now need to convince our bodies & minds to call it a night an hour earlier. After 100 miles in the saddle today, I'm not sure that much convincing will be necessary.