Day 44 - Niagara Falls to Rochester NY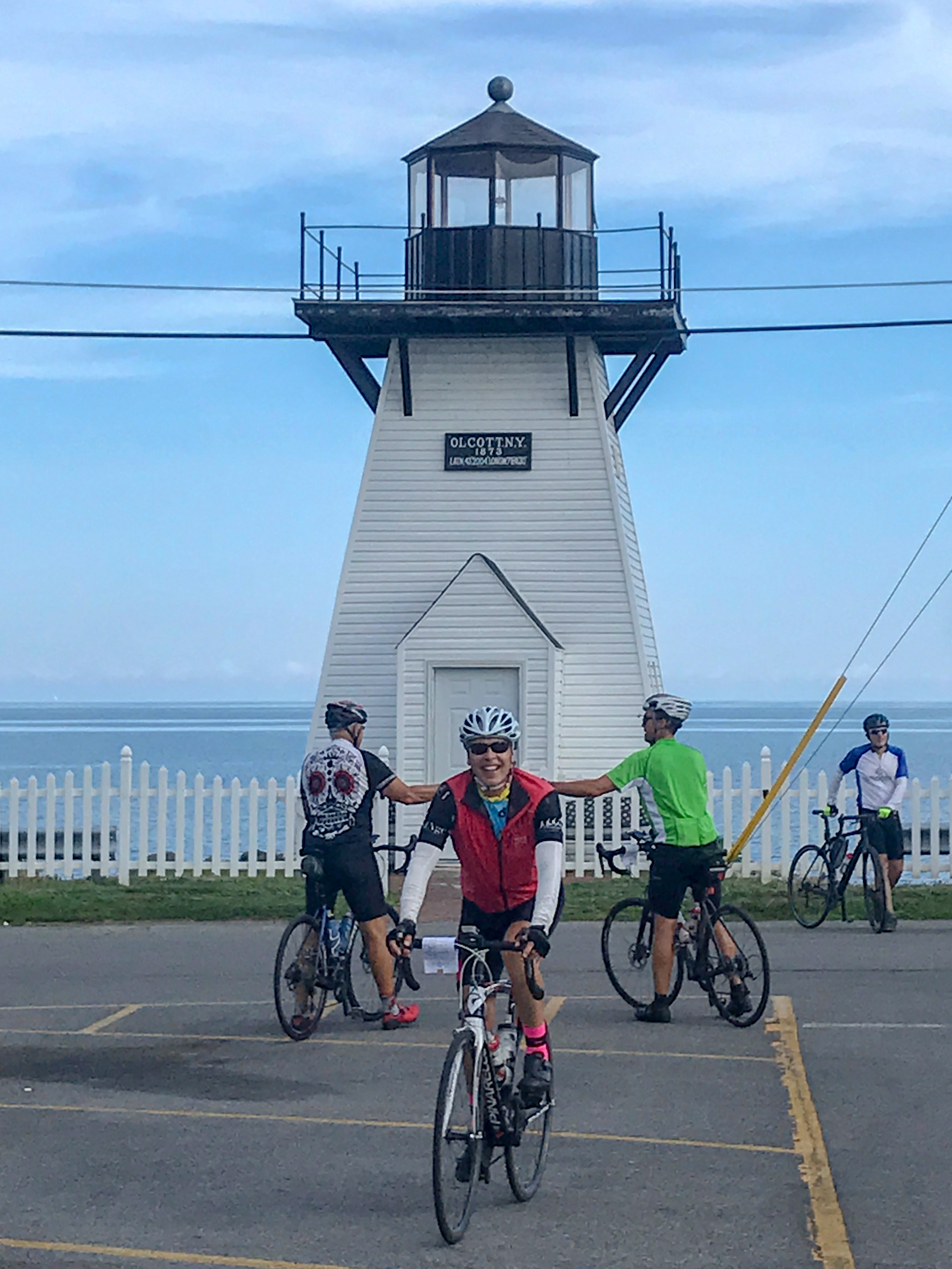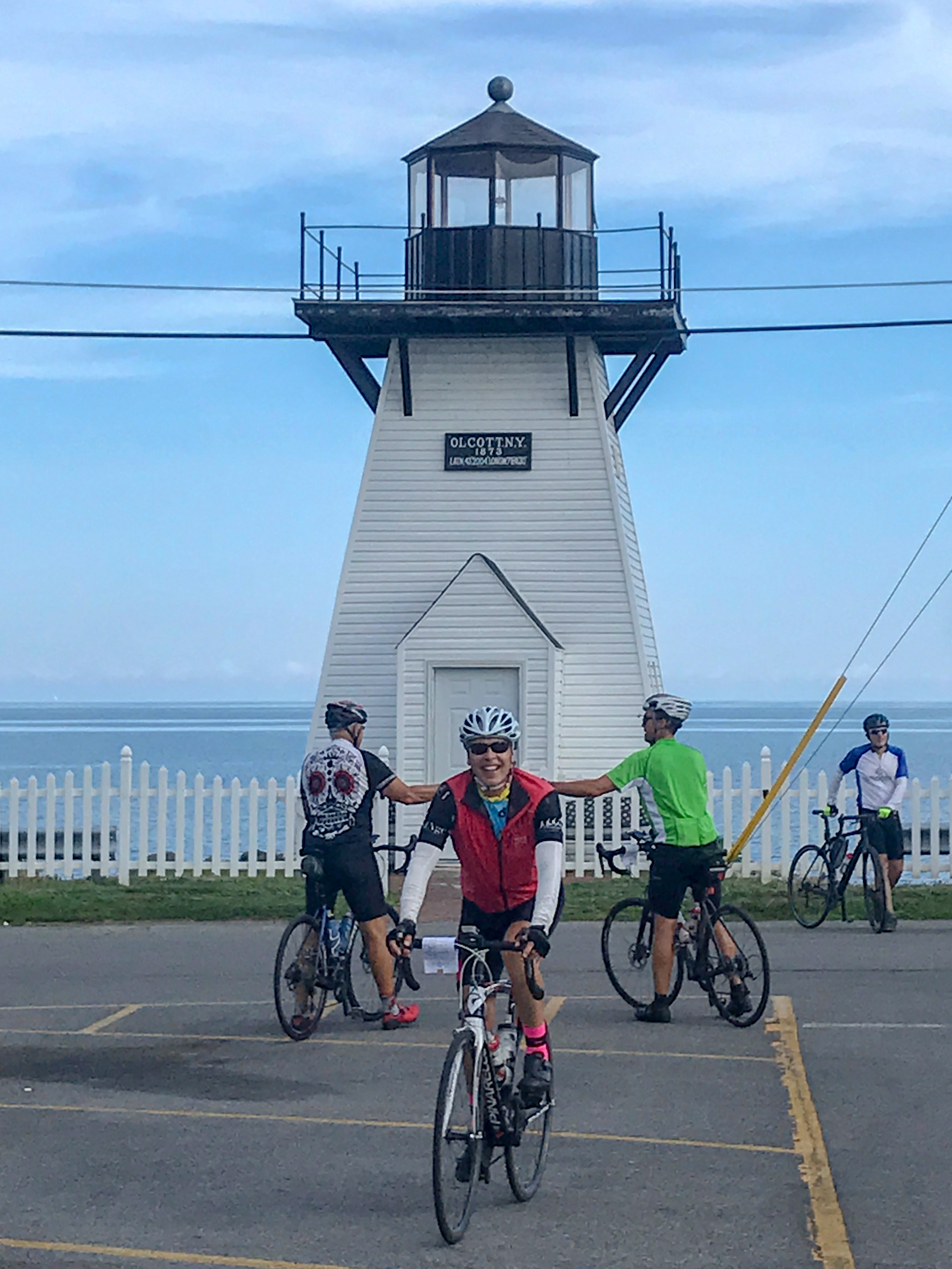 Crew's Log…
Mileage: 103 miles
Climbing: 1700'
Weather: Mid 60s to start. Low 80s to end. Humid. Winds out of the ENE.
Highlights of the day:
The weather forecast warned of the doom & gloom of afternoon thunderstorms. A few days ago, it looked like we'd be wet all day long. Last night, it looked like the rain would hold off until after noon in Rochester. The reality ended up being some clouds that did nothing but keep the temperatures down in the low 80s. This is upstate New York, right? I'm having a hard time recognizing it but I am NOT upset about it at all. The only slight complaint was the headwind. It wasn't all that strong so I guess I should tell myself to get over it and stop whining.
New route! New route! That means nothing to the riders, except the one alumnus who rode with us in 2010. It does add a bit of fun for the staff. New SAG stop locations. New places to watch riders pass. New bike paths that needed arrows to help the riders find their way to the hotel. There are lots of notes for the route sheet for next year, no major changes but tweaks to make it that much cleaner and clearer. It's a fun way to spend the first day after a rest day. AND GO! 😃
We headed north out of Niagara Falls towards Fort Niagara State Park. We followed the Niagara River and occasionally were able to see it. Funny but when we scouted the route in January, we could see the river much more easily. Dang trees! We rolled through Lewiston, Stella Niagara, and Youngstown - quiet riverside towns with some big homes. Passing by Fort Niagara, we headed east and followed the coast of Lake Ontario.
We saw a little more of Lake Ontario, especially at our first two SAG stops. Both were in parks that were right on the lake front. The first one had the obligatory lighthouse photo op. The second one had a really big slide that had to be used by one rider. She did wear a helmet, so that was good. We do have to have safe sliding on our tours.
After SAG we headed a little more south east towards Rochester. We left the lake views for a stretch of two-lane highway. Not quite as scenic but it did have a really nice wide shoulder and some new pavement as well. It took us to Perri's Pizza which was an optional stop that most riders take. They are famous for selling pizza by the slice. That's not unusual. But their slices are at least a foot long. I'm not exaggerating. At least one rider didn't heed that warning when we were pointing out this as an option at our last rap and bought two. I think he could have fed a small family (of non-bike riders, that is).
The last miles of the day were on the Erie Canal Trail (aka ECT). It's paved on this section and with the exception of some rather significant frost or root heaves, it was a nice way to wend our way through Rochester to our hotel. May our "rainy weather" forecast for tomorrow be the same "rainy weather" we had today!