Day 40 - Port Huron MI to London ON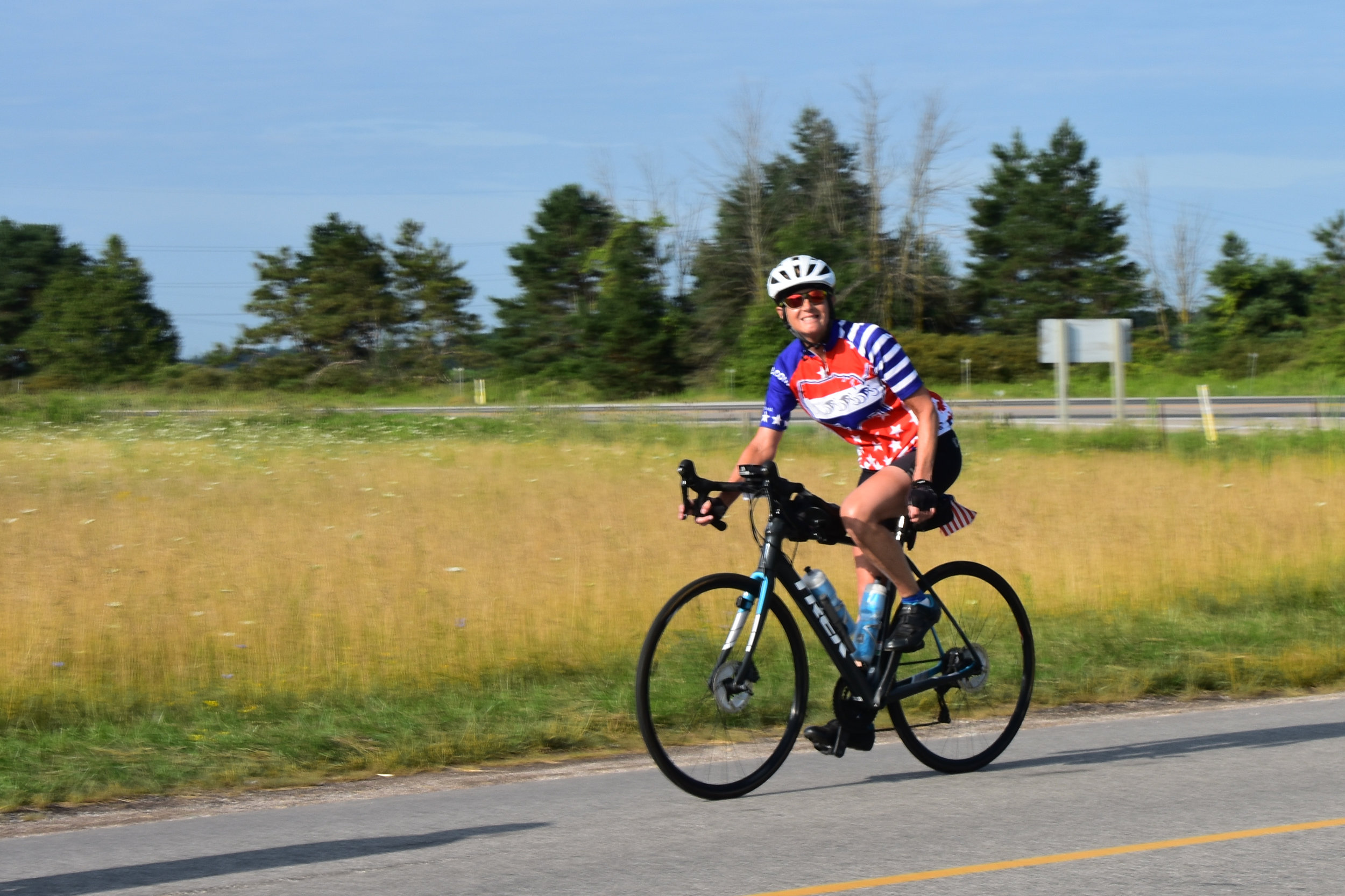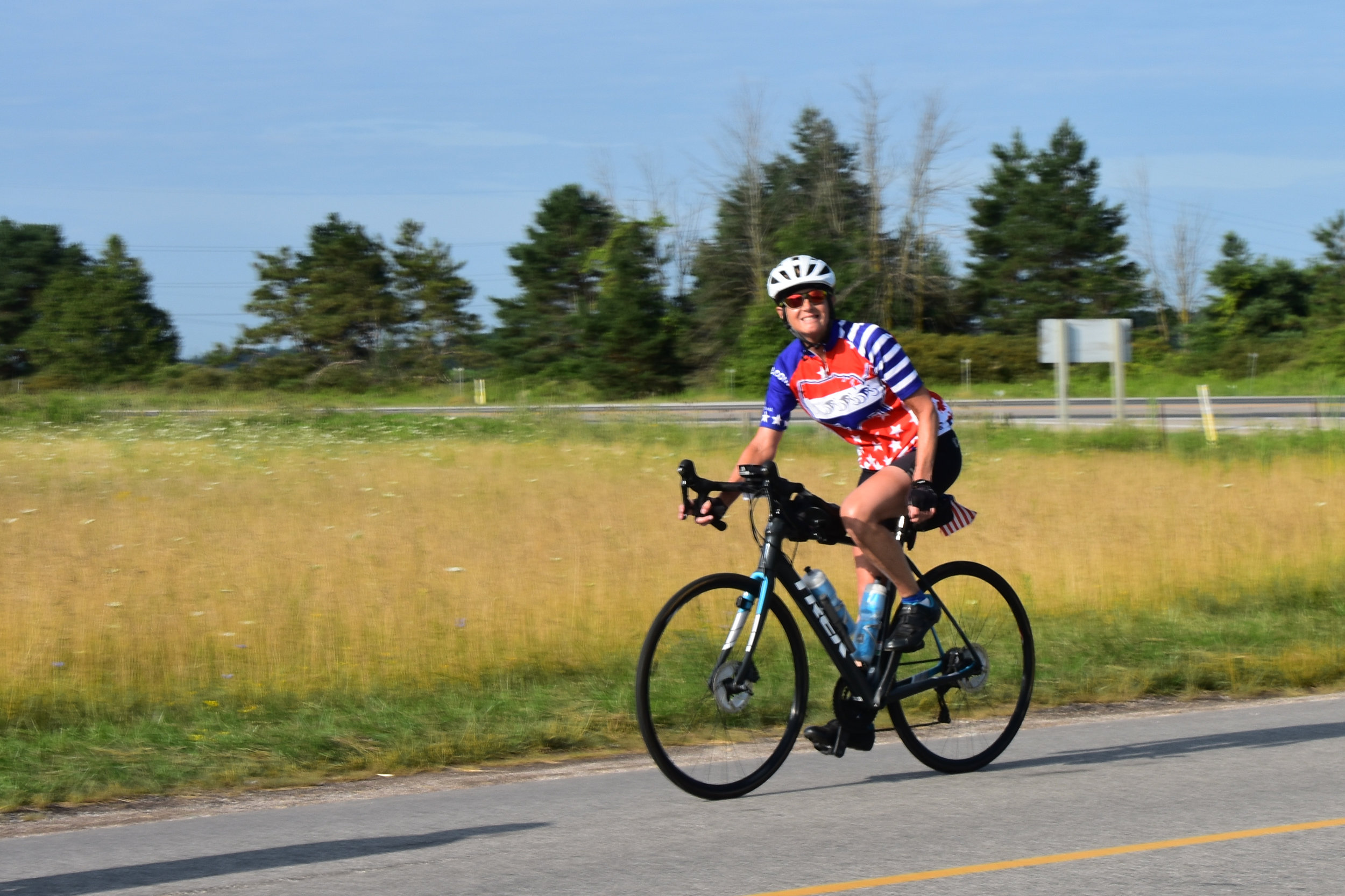 Crew's Log…
Mileage: 82 miles
Climbing: 1500'
Weather: Low 60s to start. Mid 70s to end. Strong winds out of the west.
Highlights of the day:
We crossed into Canada today over the Blue Water Bridge. It's quite the event complete with 31 riders, 3 vans with drivers, and one staff member taking pictures out the back of the mechanics van. They close down the eastbound side of the bridge for us, stopping all auto and truck traffic. Up and over the bridge and then it's time for Canadian Customs. Behave, take this seriously, and no jokes, please. The Canadian customs officers were friendly, even when confronted with 32 red, white, & blue clad bikers (ABB jersey day). It all went very smoothly thanks to the efforts of the bridge authorities (both Canadian and US) and the Canadian Border Service Agency. We thanked them all and continued our way east.
Once in Canada, we had a bit of a challenge getting out of Sarnia. Less than 10 miles into the ride, there was a bridge out. Not a big deal, we paused the riders for a short bit, found a new route, put down arrows and they were off again. They did get to see the Sarnia Chris Hadfield International Airport, so that was exciting… Back on route, we ran into stalled trains. Well, we didn't run into them but they very efficiently blocked our path. The first train was moving slowly and then just stopped with 4 cars standing between us and our route. We gave them some time to clear but nothing moved and then more started to arrive. They just kept coming. We re-routed the riders, backed up our vans with trailers and headed east looking for other options to head south. The riders made it across the tracks ahead of the vans, which waited for even more trains to pass. Seems Friday 27-July is a very busy day on the railways in this part of Canada. The excitement was done before 9:00am. We'll note that as additional reason for us to leave at dawn.
Canadian farms don't look all that different from the American ones. We saw corn and soy beans. We saw amber waves of grain, Canadian-style. There were some dark leafy root veggies as well but we didn't get close enough to identify them. There was also some tobacco. We did see many and sensed even more cows, in an olfactory kind of way. Lots of long buildings with fans. Based on our vast bovine-related experience, our best guess is we were passing sizable dairy farms.
Our food find du jour was in the town of Delaware. BJ's Country Market did very well by our riders (and staff…). Broccoli salad with cheese and bacon. What could be wrong with that?!? Sandwiches. Pastries. Ice cream. It was all good and all consumed efficiently with great enjoyment.
Roads were lovely and smooth, for the most part. Terrain was flat to lightly rolling, for the most part. Wind was at our backs, for the most part. It was a fast day for just about everyone. It gave anyone who was interested, plenty of time to check out the bike shop and outdoor co-op for Canadian jerseys. Day 1 in Canada complete!